PRESERVATION: Ensuring a future for the past
Built in 1769, this architectural treasure anchors the western end of the Georgetown Historic District. Help us to preserve and restore the Kaminski House by making a donation today. Scroll down this page to read more about our recent restoration of the exterior of the Kaminski House.
In order to better protect the historic fabric of the Kaminski House and the museum's collection, the next big preservation project will be an overhaul of the building's HVAC and duct-work systems. Installed in the 1940's, the duct-work is woefully inadequate to maintain the Kaminski House interior climate control system and we need to bring it up to the standards necessary for the preservation and protection of a modern day museum. The Friends of the Kaminski House thank you for helping us to ensure a future for the past.
help us preserve history.
Past Preservation Projects: Exterior Restoration
Brick Removal Project
In 1947-1948, the Kaminski's put up a brick facade around three sides of the home. Time has taken its toll on the brick, causing it to retain moisture and disintegrate. It is believed the original clapboard siding remains under the brick and the goal of this project is to remove the brick and restore or replace the original siding underneath.
On August 21, 2014 the first brick was taken out at a brick removal ceremony. Despite the record high temperature, a good-sized crowd witnessed the removal of the first brick. With Dr. Eric Emerson, Agency Director, SC Department of Archives & History, Lt. Governor Yancey McGill, and Representative Carl L. Anderson looking on, the honor of removing the brick was given to Mayor Jack Scoville and Frances Hills, Friends of Kaminski House board member and project chairperson.
We are making excellent progress on the brick removal process. Stop by and see the work in progress!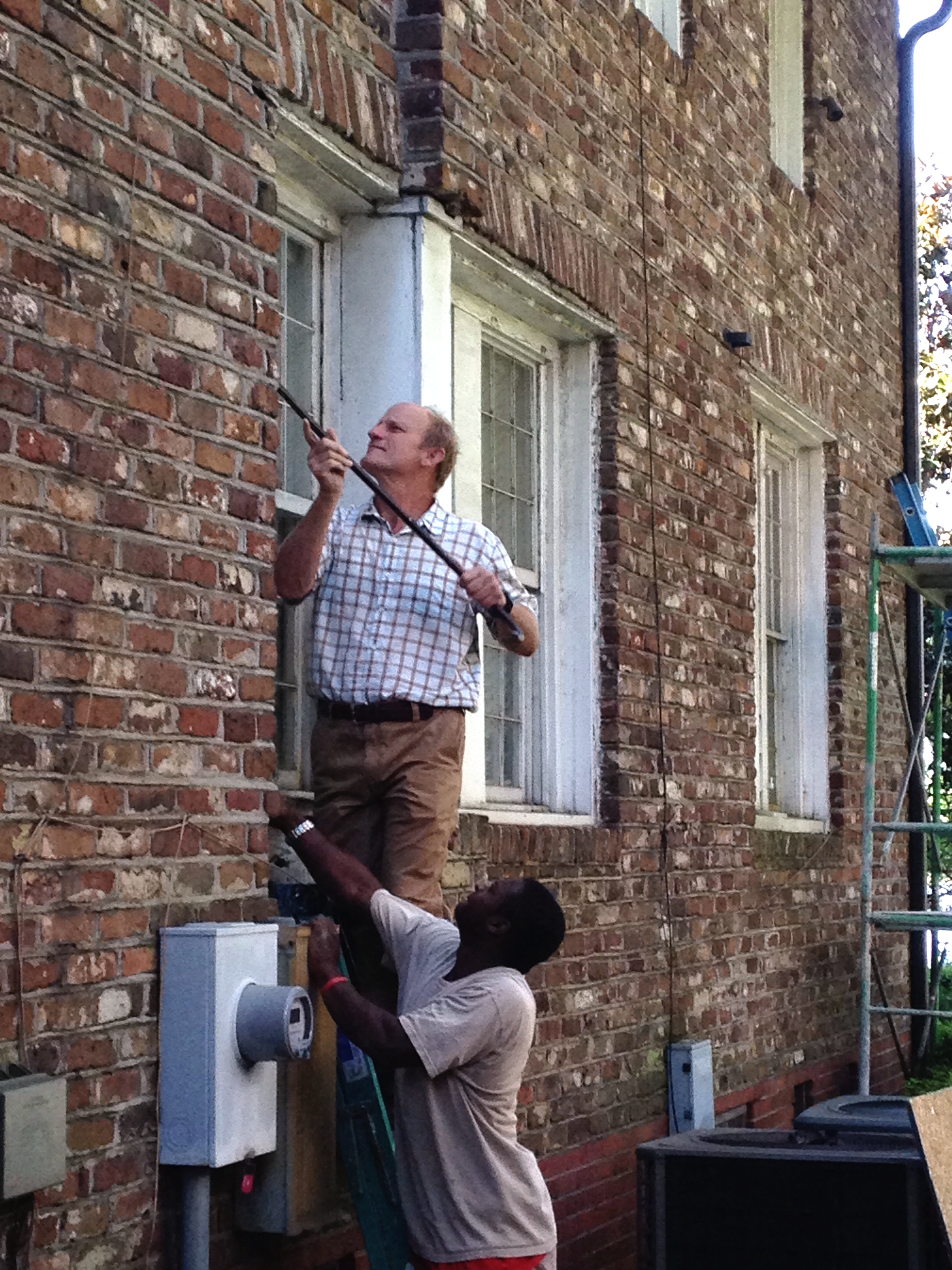 September 3, 2014: The workmen started working on the Front Street facade today. We are thrilled that they have found some of the original clapboards underneath the brick.
September 9, 2014: The Front Street facade is looking great!
September 10, 2014: The Front Street facade is now free of all bricks.
December 11, 2014: The work crew has been very busy today. The Front Street side of the house will soon have new wooden clapboards on it. You can see some of the original timbers for the house just to the right of the tree (the dark brown pieces). The lighter colored framing (to the left of the tree) shows you where the original porches were enclosed.